The Concord Players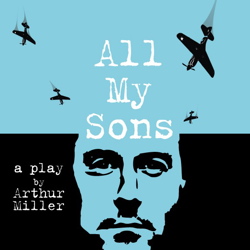 directed by Douglas Cooper
audition dates are
Sun, Aug 27 & Wed, Aug 30
7-9 pm
callbacks Thur, Aug 31 7-9 pm
Audition with a 1-2 minute dramatic monologue (need not be memorized). Please note, cold readings from the script reserved for the call back night only.
ALL MY SONS tells the story of Joe Keller, a successful, self-made man, who committed a terrible and tragic act. He allows his business partner to take the rap, serving prison time for his crime, and successfully contrives his own innocence. Now, his son is about to marry his ex-partner's daughter, the criminal act is revisited, and his lie is unraveled. Joe has spent his entire life in the single-minded pursuit of wealth for the sake of his family, an American Dream gone nightmarishly awry. This is a story about responsibility. Arthur Miller, who wrote this powerful and moving work in 1947, had more than just that on his mind. It's a powerful play about all the compromises one is forced to make to live in a dishonest world and about a country's irrevocable loss of innocence at the hands of war.
Character Descriptions as detailed in part by Miller himself:
Joe Keller – nearing sixty, a heavy man of solid mind and build, a business man, but with the imprint of a laborer. When he reads, speaks, and listens, it is with the concentration of an uneducated man for whom there is still wonder in many commonly known things, a man whose judgement must be dredged out of experience and a peasant-like common sense. Joe defends his name and reputation by refusing to acknowledge the connection between himself and his actions.
Kate Keller – in her early fifties, Miller prefers to call her Mother rather than Kate when providing her script dialogs. She is a woman of uncontrolled inspiration and an overwhelming capacity for love. The relationship between Son and Father may be the center of attention, but she holds the key to the action. She carries the authority in the household and defines what is reality, while struggling to deny truth and reject causality. For her nothing must change, the clock has stopped.
Chris Keller – he is thirty-two, like his father, solidly built, a listener, a man capable of immense affection and loyalty. He sees himself as a martyr of sorts, an idealist; yet suspicion will grow that this is an image behind which he hides. Doubts are covered by a self-conscious presentation as an honest man, a self-denier only now able to assert his rights. He asserts an idealism that is at odds with his equally evident self-interest.
Ann Deever – she is twenty-six, gentle but despite herself capable of holding fast to what she knows. She shares Chris's high ideals but believes he should not feel ashamed by his wealth. She has disowned her father whom she believes to be guilty of a crime. She has no wish to hurt anyone but is willing to do just that by exposing the truth about the Keller's oldest son if they remain opposed to her marrying Chris.
George Deever – also thirty-two, a soul mate of Chris, when younger, he greatly admired him. In the war, like Chris, he has been decorated for bravery. He follows Chris in accepting that his father is guilty. Now he reproaches Chris for (as he sees it) deceiving him. He is bitter because he has grown cynical about the ideals for which he sacrificed his own opportunities for happiness.
Dr. Jim Bayliss - is nearing forty, a wry self-controlled man, an easy talker, but with a wisp of sadness that clings even to his self-effacing humor. In his youth, he shared Chris's ideals, but has been forced to compromise to pay the bills. He is fair to his wife, but she knows how frustrated Jim feels. Jim's is the voice of disillusioned experience. If any character speaks for the playwright (Arthur Miller), it is Jim.
Sue Bayliss – is rounding forty, an utterly cynical woman. Believing Joe has "pulled a fast one"; she does not mind his awful crime, yet she dislikes Chris because his idealism, which she calls "phony", makes Jim feel restless. She is an embittered, rather grasping woman, whose ambitions are material wealth and social acceptance. She does not at all understand the moral values that her husband shares with Chris.
Frank Lubey – is thirty-two and balding, a pleasant, opinionated man uncertain of himself, with a tendency toward peevishness when crossed, but always wanting it pleasant and neighborly. A materialist, he lacks culture, education and real intelligence, but has made money in business, and has courted Lydia while the younger men were fighting in the war. He dabbles in astrology lending support to Kate's refusal to acknowledge the truth about her oldest son.
Lydia Lubey - is twenty-seven, robust, simple, warm and affectionate, rather a stereotype of femininity (she is confused by electrical appliances). Her life is in sharp contrast to what George and Chris have gone without. Her meeting with George (at one time her boyfriend) is painful to observe, she has the happy home life that he has forfeited. We understand why George declines her well-meant but tactless invitation to see her children.
Bert – a child of eight or nine, full of energy and wonder, he's one of the kids from the neighborhood that believes Joe to be something of a hero, their chief of security, a vigilant protector of their small world.