The Concord Orchestra, Concord Band, and Concord Players
Present a concert performance of Gilbert & Sullivan's classic, comic operetta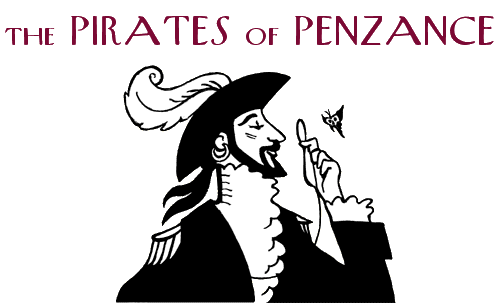 Conducted by Alan Yost
March 17, 2007 - 8:00 PM - 51 Walden St, Concord, MA

Adults $20 Seniors & Students $15
Proceeds will benefit the 51 Walden Stage Renovation Fund
Soloists:
| | | | |
| --- | --- | --- | --- |
| | | | |
| | | | |
| | | | |
| | | | |
| | | | |
Chorus women (General Stanley's Wards): Lis Adams, Connell Benn, Katy Blair, Ilene Boucher, Anna Maria Callendar, Marian Leeds Carrol, Kathy Cuolo, Kim Dyer, Suzanne Frank, Alice Hannon, Jill Henderson, Wendy Hott, Judith Jango-Cohen, Erin LoPorto, Jean MacFarland, Nicole Monnell, Jennifer Morris, Marianne Orlando, Angeline Pacy, Stephanie Smith, Diane Porter Tutin
Chorus men (Pirates and Police): David Atwood, Rick Barnes, Cliff Bean, David Clarke, Brian Cutler, Phil Drew, Art Dunlap, Rollin Jeglum, Jim Miller, Larry Millner, Ken Nygren, Jon Saxton, Carl Wegel, Peter Yensen, Mike Zimmer
Orchestra: Priscilla Der Ananian, concertmaster, Alton Baggett, Jane Bailey, Carol Birdsall, Kathy Chick, Richard Chick, James Delorey, Edith Epstein, Laura Finkelstein, Rebecca Harvey, Peter Hornbeck, Bruce Kinmonth, Meredith Kirkpatrick, Sheryl LaFayette, Marian Levinstein, Barbara Marden, Michelle Markus, Pamela Marshall, Charlie McCauley, Loretta Morse, Cameron Owens, Julia Parmalee, Vanessa Rene, Paul Rousseau, Carol Sohn, Sue Stone, David Tweed, Mark Vincenzes, Carole Wayland, Marsha Westerberg, Lois Whitney
Acknowledgements
| | |
| --- | --- |
| Producers | David Atwood, Susan Tucker, Carole Wayland |
| Chorus Director | Alice Hannon |
| Costume Design | Dolores Carabillo, assisted by Susan Tucker, Helen Martin, Pat Kane and Kathy Booth |
| Front of House | Dorrie Bean, Bill Maxwell |
| Lighting | Susan Tucker |
| Police Hats | Open Door Theatre, Turtle Lane Playhouse |
| Printing | Bill Maxwell |
| Publicity | Dorothy Schecter, Rik Pierce, Rebecca Hains |
| Refreshments | Gail Penrod |
| Rehearsal Pianist | Don Boroson |
| Tickets | David Atwood, Carole Wayland |
The plot: Gilbert and Sullivan's hilarious comic operetta tells the story of the orphan Frederic. The son of a wealthy 19th century man, Frederic's fate takes a sudden twist when, after his father's death, his hard-of-hearing nursemaid finds him an apprenticeship as a pirate instead of a pilot! He fulfills his apprenticeship with not just any old pirate, rather, it's with the Pirate King himself, the leader of the not-so-fierce "Pirates of Penzance." But now at age 21 and with his indenture ending, Frederic's sense of duty calls him to rid the seas of his former friends. Despite their track record, the pirates believe they have an ace up their collective sleeves, a way of keeping Frederic amongst them...