Afterwards..
fund raising production
Harrisburg Production
Setup
Gallery of Festival Productions
After all the productions 11 community theatres could relax. First came the awards. We were presented with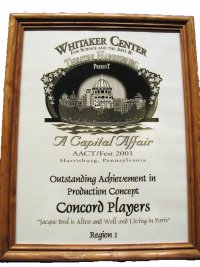 But before this award, a number of people were called up on stage to receive special awards. Among these was our own Heddie Kent who received the Robert E. Gard Superior Volunteer Award. This is presented "to individuals above the age of 65 who have faithfully served community theatre on a non-paid basis for many years." Sounds to me as though old Bob Gard had Heddie in mind when he came up with this one! Hell, she's been a Concord Player member for 65 years!
Heddie wowed the crowd with tales of South Pacific and some of the other memorable events she had presided over during the past. Here are some pictures of me trying my damndest to get a good picture. But these are better than what I got!
All I can see is that I'm getting bald
all pix by Neil Tischler,
JBrel's indominable drummer
Anyone ever seen Heddie perform as much and as well as she did that night? At the end the audience gave her a standing O! She deserved it far more than any standing O I've seen lately at the theatre!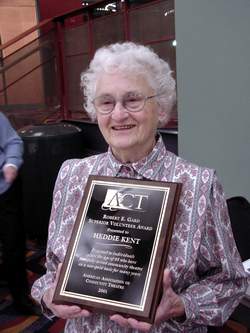 More pix by Neil:
Gisele receiving the
Participating Award

cast with award

Goulds relax

Team Brel

Concord Players seem to make
up most of the audience

dinner