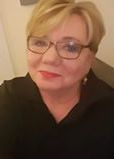 Linda McConchie
Linda is always happy to be working on a show with the Concord Players, especially when she's co-producing with her machutinem Corinne Kinsman and under the direction of the ever-so-talented Brian Kelly. Linda is the recipient of 5 DASH awards for set dressing an/or props and has performed on the Concord Players stage as Mavis in Stepping Out (winner of a DASH for best ensemble) and The Queen in Cinderella. It's the back of the house that's most fun for her, though, and working with Anne Bantly on props is always a treat.
By day Linda is the marketing manager at North Hill senior living in Needham. Her favorite role is another one she shares with Corinne, grandma (in her case "Toots") to three-year-old Oscar and seven-month-old Sammy.
Congratulations to Brian, Paula, and this talented cast and crew, who've created a farcical farce to beat all farces!