ET IN ARCADIA SUMUS!
"And in Arcadia we are!" -- or will be! -- as the Players open their 99
th
season with Tom Stoppard's play
Arcadia
. Directed by Doug Sanders, the play is a
centuries-spanning comedy about time, truth, love, literature, science, the differences between Classical and Romantic temperaments... and the disruptive influence of sex on all other things we know about life.
Arcadia is set in Sidley Park, an English country house in Derbyshire, and takes place in both 1809/1812 and the "present" day (1993). The activities of two modern scholars and the house's current residents are juxtaposed with those of the people who lived there in the earlier period.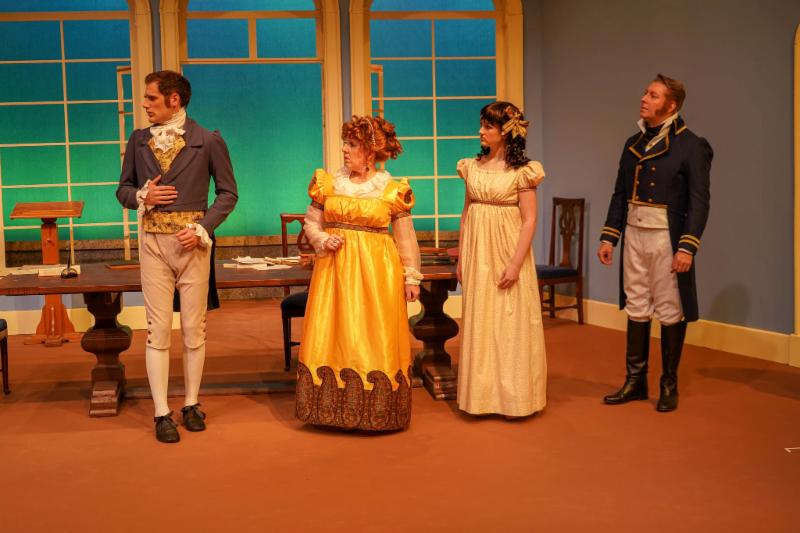 In 1809, Thomasina Coverly, the daughter of the house, is a precocious teenager with ideas about mathematics, nature and physics well ahead of her time. She studies with her tutor Septimus Hodge, a friend of Lord Byron (an unseen guest in the house). In the present, writer Hannah Jarvis and literature professor Bernard Nightingale converge on the house. She is investigating a hermit who once lived on the grounds; he is researching a mysterious chapter in the life of Byron. As their studies unfold - with the help of Valentine Coverly, a post-graduate student in mathematical biology - the truth about what happened in Thomasina's time is gradually revealed.
The cast is a perfect blend of Concord Players' veterans (Jennifer Bubriski, Russ Gannon, Mike Lague, Jay Newlon, Paul Spanagel, Terry Tamm,) and newcomers (Sarah Brinks, Seamus Knight, Abigail Long, Nick T. Miller, Grace Sumner, Eric Surette). The cast and crew have been working hard since late August to bring this great play to life - you will not want to miss it! Arcadia runs November 2nd through 17th, and tickets are available now on the Concord Players website
.
A CHRISTMAS CAROL
"

If they

would rather

die

," said

Scrooge

, "

they

had better do

it

, and decrease

the

surplus population." T
hat quote from Charles Dickens' classic A Christmas Carol didn't come straight from his imagination. It was derived from the essays of Reverend Thomas Malthus (1766-1834) who wrote prodigiously during his time about the need to decrease the "surplus population." Malthus believed that increases in population outpaced increases in food supplies, so to preserve humanity, population growth should be suppressed.
Bah Humbug to that! Dickens rejected Malthus' theories and poured his humanity into a story that tells us there is a chance for redemption as long as we're alive, and that the world has room for everyone.
He provided his curmudgeonly protagonist with three sage ghosts who redeemed him with love and infused him with joy. Christmas past helped him summon memories of sisterly affection, childhood friendship and holiday merriment; Christmas present radiated fellowship and joie de vivre, softening Scrooge's hardened heart to evoke empathy for the waif-like Tiny Tim. Christmas future brought a warning with terrible foreboding of doom if Scrooge couldn't dig deep into his soul to reclaim his humanity.
The visits worked:
"I am as light as a feather, I am as happy as an angel, I am as merry as a school-boy. I am as giddy as a drunken man. A merry Christmas to every-body! A happy New Year to all the world! Hallo here! Whoop! Hallo," Scrooge joyously proclaims upon awakening to realize he has a chance to reclaim his soul. When he steps out of his front door on a crystalline Christmas morning he loves the world, and the world loves him back.
Victorians rejoiced when Dickens' novella was published in 1843, hailing it as "a new gospel," and adopting Scrooge's happy new greeting for the holiday: Merry Christmas! Readings and performances of A Christmas Carol quickly became a beloved holiday tradition in Victorian England, and the story of Scrooge's redemption has remained a classic for every generation since.
On December 2, 2018, at 4pm, Concord Players member Johnny Kinsman will perform a dramatic reading with illustrative slides of A Christmas Carol at 51 Walden as a gift from the Concord Players to the Town in a celebration of good will during the holiday season.
Kinsman, who grew up in Concord is an actor, director, producer, writer and storyteller who cut his teeth in theatre at Act/Tunes, now Concord Youth Theatre. His professional career was launched with a BFA in Theater from Syracuse University where he received a prestigious Arthur Storch Award for Excellence in Classical Acting. He is currently associate artistic director for Anthem Theater in Boston where his work includes: both Dromios in A Comedy of Errors; Fezziwig in Charles Dickens' A Christmas Carol; Coach "Friar" Lawrence in Romeo vs. Juliet (which he also penned); Flynn in The Merry Way; and Sir Toby Belch in Twelfth Night of the Living Dead.
Kinsman admits to being sentimental, and he has loved Dickens' story since he was a child. "I feel like my soul is refreshed every time I read it," he says. "It's a feeling I want to share with everyone I meet."
So whether you worship in church or out in a field; pray to one God or a dozen different goddesses, or just need a little bit of winter merry, join Johnny Kinsman and the Concord Players for the story that reminds us there is a time of year "when men and women seem by one consent to open their shut-up hearts freely, and to think of people below them as if they really were fellow-passengers to the grave, and not another race of creatures bound on other journeys."
"God bless us, every one."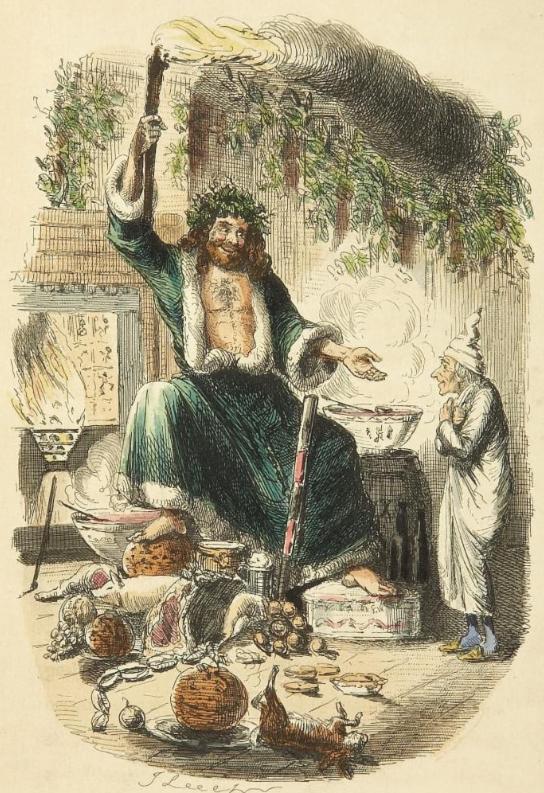 A Christmas Carol, a free dramatic reading with illustrative slides
Sunday, December 2, 2018, 4pm
51 Walden Street, Concord MA
CALL FOR PROSPECTIVE DIRECTORS
The Play and Director Selection Committee will soon begin the director interview process for our 2019-2020 season! The big difference for our process is that the coming season will be the 100th anniversary of the Concord Players! While emails with our recommended play list should be going out to directors later this month, we also invite any and all interested directors to get in touch with PDSC chair Craig Howard at PSEUDOL@aol.com so that we can be sure to send you our invitation and Board-approved playlist.
While, as always, we will be open to workable suggestions of known scripts that might be a good fit for our particular venue, there will be a very specific set of parameters for the settings of any and all shows that we will be looking at for the coming year. The fall production, most likely a musical, must be set approximately (and no earlier than) 100 years ago. The setting for the winter show will be approximately 50 years ago, and the spring show must be in a relatively contemporary setting.
Note: If you did not receive our invitation this past year and want to be added to our list, please send an email noting your interest! If you got it before, you should be all set!
T
HE COUNTRY HOUSE
AUDITIONS
The Concord Players will be holding auditions for their winter production of The Country House by Donald Margulies, directed by J. Mark Baumhardt. They will be held at 51 Walden at 7:00pm on Sunday, November 4th and Wednesday, November 7th, with callbacks on Sunday, November 11th. For further information and to sign up, please go to our website.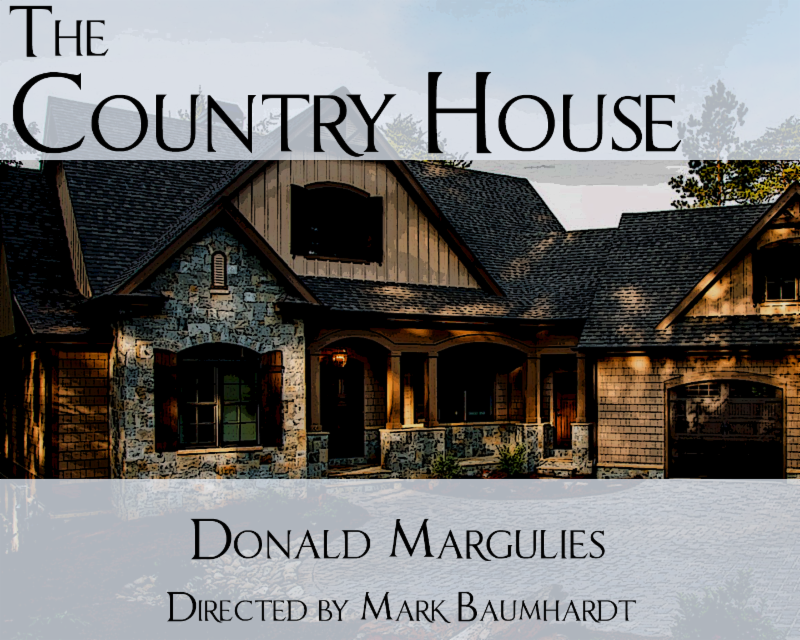 THE SECRET GARDEN
AUDITIONS
Auditions for The Secret Garden will be in the evenings of December 2 and 4 with callbacks on December 7. All auditions will be held at the Fenn School in Concord. More information about audition signups and times will be posted on the Concord Players website in the coming days.
A PRINCESS HOLIDAY PARTY
T
he princesses are throwing a holiday ball - and YOU'RE invited! The Broadway Princess Holiday Party is inspired by the Broadway Princess Party series at NYC's 54 Below, hosted by Laura Osnes (from Broadway's Cinderella) and Benjamin Rauhala (Broadway's Fiddler on the Roof). Over 18 million fans rave about Osnes' series on YouTube, and Concord Players is excited to bring 18 Boston performers to 51 Walden for a holiday version of this enchanted evening. The last princess party by these particular royals brought in rave reviews in Boston, calling the show "beautiful" and "enchanting".
This event is not your typical cabaret; the set list is well-developed, featuring a series of solos, duets, mash-ups, and medleys of your favorite royal numbers -- plus some holiday flair! Local talents include Concord Players members Amanda Casale (Spamalot), Benjamin Oehlkers (Secret Garden), Daniel Monopoli, David Rodrigues, and Monica Wright (all The Hunchback of Notre Dame), as well as Lauren Cantos Smith, Samantha Casale, Jessica DePalo, Cara Guappone, Brian Kenerson, David Lucey, Adina Lundquist, Kara Nelson, Agatha Oehlkers, Eric Rehm, Carole Shannon, David Wright, and Todd Yard.
Children (in age or at heart) are welcome to sit on the floor up close and personal with the performers, while there will also be general admission seating.
So get your ballgown out of the closet, dust off that tiara, and join TWENTY of your royal favorites (and some special guests) on Saturday, December 22nd from 2pm to 5pm. There will be exclusive time put aside for photos with all twenty princesses, as well as princess- (and prince!-) inspired gifts, food, cocoa, egg nog, punch, and a surplus of magical Broadway and holiday spirit. Your every dream will come true, for nowhere else can you meet THIS MANY princesses in one place! Tickets can be reserved on the Concord Players website, and purchased at the door for $15 (cash or check only). A wonderful time is sure to be had by all the fairest guests in the land!
The Hurly Burly Vaudeville Extravaganza, a fundraiser event for the Access 51 campaign, will be held on Saturday, January 12th 2019. Join us for an evening spotlighting the many talented folks who perform on the stages here at 51 Walden. Stay tuned for more information on how you can participate.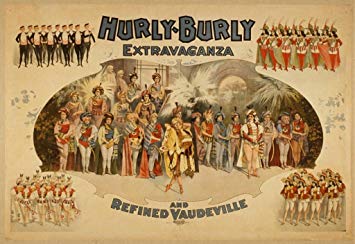 HELP WANTED!
Time to get off the couch and use that skill saw that Santa gave you last year! We are taking applications for individuals who are interested in working backstage in set and scene construction. Rough carpentry skills required, as well as a flexible schedule to accommodate weekday mornings into early afternoons a couple of days a week for 4-6 week projects during the year. You will develop great friends, have fun, and contribute to a community effort by supporting your local theater. For more information please contact Allen Bantly at bantlyallen@gmail.com .
CP MEMBERS' NEWS
Flemming:
Concord Players member Diana Doyle will be performing in the comedy
Flemming
with the
Walpole Footlighters
, running October 19th-November 4th.
A Day in Hollywood / A Night in the Ukraine
:
Act One is a rollicking musical review that celebrates the bygone movie era when Fred Astaire and Irving Berlin reigned. It's jam-packed with music written for this show, as well as some old standards from the movies. Act Two is a comedy that owes a large, huge, enormous debt to the Marx Brothers. Because, in fact, it's a farce styled after and starring characters right out of a Marx Brothers movie. This is a Night - and a Day - to just have fun. Directed by Russell Greene with Musical Direction by Howard Boles and Choreography by Kai Chao, this
Vokes Theatre
production features Concord Players alums Andrew Swansburg, Rob Mattson, Catherine Lee Christie, Lisa Tierney, and Allan Hunter. The show runs November 1st-17th (Thurs, Fri, and Sat evenings with Saturday matinees on the 10th and 17th).
Women in Jeopardy
:
Concord Players Board member Paul Murphy is directing the screwball comedy
Women in Jeopardy
for the Burlington Players. Tricia Akowicz is producing. This comedy/mystery is making its local community theater debut. The show runs November 2-17, and tickets may be purchased
here
.
A Funny Thing Happened on the Way to the Forum
:
The Savoyard Light Opera Company of Carlisle will be presenting the musical comedy classic
A Funny Thing Happened on the Way to the Forum
. Don't blink, or you might miss appearances by such Concord Players alumni as Michael Giblin, Anthony Huntington, Timmy Chase, Lonnie Powell, Craig Howard, Tom Frates, Emily Chapman, Elise Ratchford, Samantha Sickorez, and Jon Saul. Performances (featuring a full orchestra) will be at the Corey Auditorium on Church Street in Carlisle, at 7:30pm on Saturdays November 10th and 17th, and 2:00pm on Sundays November 11th and 18th. For tickets and additional information, go to the Savoyard
website
.
Hansel and Gretel:
During the 2018 holiday season Opera51 will present a fundraiser performance of Engelbert Humperdinck's classic opera
Hansel and Gretel
, setting to music the story published by the Brothers Grimm in 1812. This popular work has familiar tunes and a child-pleasing finale where the crafty children turn the tables on the witch and push her into her own oven for a fiery demise. The work will be costumed and sung in English with orchestra. Concord Players President Jay Newlon is choreographer for the production, and tickets will be available on the
Opera51
website soon
.
First Things First: Concord Players Treasurer Kathy Lague will be directing the farce First Things First with the TCAN Players in March 2019.
UPCOMING EVENTS AT 51 WALDEN
December 1, 2018 at 2 p.m. and 4 p.m.
The Concord Orchestra Holiday Family Concert: Joyce Kulhawik narrates
The Composer is Dead
, by Nathaniel Stookey. Also on the program is
Rounds for String Orchestra
by David Diamon and Chabrier's
Marche Joyeuse
. Tickets $20, $10 for children and students. Buy
on-line
or call (978) 369-4967.