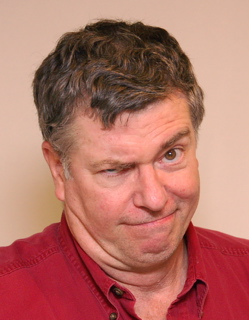 Rick Barnes
Rick Barnes (Brick-wielding Man) is tickled to be involved in his first production with The Concord Players. He has trod the local boards for 30 years: At the Savoyard Light Opera Company, he has portrayed Sir Richard Cholmondeley in Yeomen of the Guard, Old Adam (Ruddigore), Antonio and Don Alhambra de Bolero (Gondoliers), Samuel (Pirates of Penzance), Lord Mountararat (Iolanthe), and Charlie Davenport in Annie Get Your Gun.
At Acton's Theater III, he has played Ali Hakim in Oklahoma!, Charlie in The Foreigner, and Billy Crocker in Anything Goes; at the Open Door Theater in Acton, he has played Captain Hook in Peter Pan (an easy role for anyone with teenage kids) and Papageno in The Magic Flute.
In the Real World, he outraces technological obsolescence (or does he?) at MIT Lincoln Laboratory and is proud of his grandkids Anna, Katie, Vicki, Ian, Jack, and Molly.