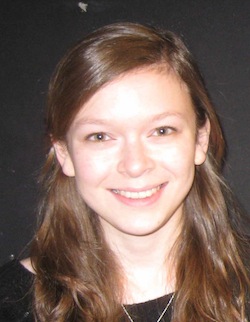 Amelie Lasker
Amelie is very excited to be working with Concord Players, and to be playing her favorite March sister in this traditional production of Little Women! She has performed in many shows at Concord Youth Theatre over the years, and has been taking classes there since the age of four. She has also worked on several shows at Acton-Boxborough Regional High School, both on and offstage, and this spring she will go to the METG High School Drama Festival with AB's production of Fuenteovejuna.
Favorite roles at Concord Youth Theatre include Frocin in Tristan and Yseult last summer, a fairy in Sleeping Beauty, and a duckling in Honk! when she was eleven. In 2010 she worked as an extra in the film What's Your Number? with several other Concord Youth Theatre kids, and although her scene didn't make the cut, it was a really interesting experience. When Amelie was younger, she wrote plays with her sister Julia and performed them for her family, much like the March sisters do in Little Women! In elementary school and junior high, she also wrote plays that were performed by 5th and 6th grade classes.

Amelie would like to thank the Concord Players for giving her this opportunity, and, of course, her ever-supportive family and friends!