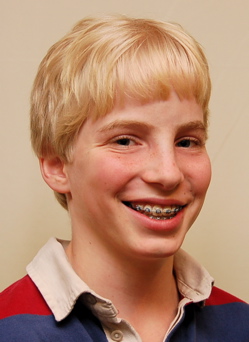 Miles Petrie
Miles, a seventh grader at The Fenn School, has loved theatre ever since watching his big brother, Sam, and first cousin, Amy Nosowitz, perform in Concord Players' Honk! eight years ago. He is thrilled to also have this wonderful opportunity to perform with the Concord Players.
Besides his involvement with drama at The Fenn School, Miles has performed in 7 productions with Concord Youth Theatre, including the roles of Charlie in Willy Wonka, Noah Claypole in Oliver!, and Chip in Beauty and the Beast. He also recently appeared as the Page in the Concord Players/Concord Orchestra's Messiah Sing this past December. In addition to acting, Miles loves to sing, play the cello, and is an avid baseball player and fan.
He would like to thank Lisa Evans, Carly Evans, Rene Pfister, and Kirsten Gould for all they have taught him about acting, and his brother, Sam, and cousin, Amy, for their example, inspiration, and leading the way! Thanks to his friends from CYT who have made his theatre experiences very fun and have also kept him going. Also many thanks to his Mom, Dad, and big brother, Jess, for their support.