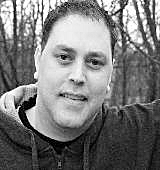 James Tallach
(Chauvelin) is thrilled to be making his debut with Concord Players in one of his favorite musicals. A local actor/singer/director and stage manager, James has performed in one capacity or another for many of the areas leading theater companies, including Metro Stage Company, The Company Theater, Image Theater and Turtle Lane Playhouse (where he is currently the assistant director of operations).
Some of his favorite on-stage roles include Dave (The Full Monty), Utterson (Jekyll & Hyde), The Pirate King (Pirates of Penzance), Jud Fry (Oklahoma) and Young Ben (Follies), to name but a few.
James' most recent directing credits include Working (Metro Stage Company) and The Producers (Turtle Lane Playhouse), for which he was honored with two Best Director nominations from the I.R.N.E. awards (Independent Reviewers of New England).
He'd like to thank everyone at Concord Players for the opportunity, especially Corey and Mario. Hugs to Gary and wee Sam.