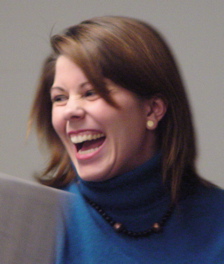 Kristin K Fehlau
Kristin is happy to be performing with The Concord Players again. It has been 8 years since her last production on the concord stage and nearly 6 since she has been the part of any theatrical production.
After graduating high school in '99, Kristin attended Westfield State College as a Vocal Performance Major . There she sang for two years in the College Chorale. She had the amazing opportunity to grace Carniegie Hall's stage in a state performance. Later, Kristin followed her musical ambition as singer/songwriter and collaborated with the "Musician's Development Institute" in Plymouth, MA. There she mad a CD titled "23rd Story" which was reviewed well and played on various college stations. Including Cape Cod's own Pixy 103. For now, Kristin is freshening up on her acting and working full-time in Natick, MA as a Senior Sales Associate.
Credits: Meet Me in St. Louis, Sound of Music, A Mid Summer Nights Dream, Evita, Hello Dolly (Reagle Players), Children of Eden (Westfield State)
Future goals: Write/record more original songs, form a band of musicians and begin touring New England, continue acting and earn a college degree.