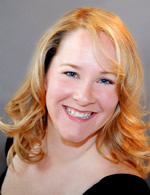 Nectaria Kordan
Nectaria is happy to have gotten to opportunity to help open and close another great Concord Players season. Previous Concord appearances include Cat on a Hot Tin Roof (Mae), Hay Fever (Sorel Bliss), She Loves Me and FOPAC's The Pirates of Penzance (Ruth).
Her favorite roles have been Maureen (The Beauty Queen of Leenane) and Amanda (Private Lives), both with The Amazing Theater Company. Other roles include Madame de la Grand Bouche (Beauty and the Beast), Mrs. Squires (The Music Man), Peep-Bo (The Mikado) and Ayah (The Secret Garden.) She has also performed in The Sound of Music, HMS Pinafore, Iolanthe and Mame and has been a featured soloist in Savoyard Light Opera Company and New England Light Opera Company productions.
Nectaria made her Lincoln Center debut performing in an all-Loeffler concert in 1999 and her Jordan Hall debut with Opera UnMet's production of Aida in 2005. When she's not on the stage, Nectaria enjoys competing in road races and triathlons. She is currently training for her first marathon which she will be running one week after the show closes.