Susan Ellsworth
Susan is appearing in her 18th Concord Players show, although in the others she actually spoke. Here are some: The Man Who Came to Dinner, Little Women, Our Town, Lysistrata, Hard Times, And a Nightingale Sang, Learned Ladies, and Guys and Dolls (starring Kirsten Gould!). She has spoken quite enough, and now is having a great time simply appearing.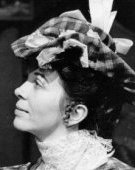 Importance of being Earnest (1977)
Susan would be hard put to name a favorite character from her Concord Players roles, which range from Gwendolen (The Importance of Being Earnest) in 1977 to Marmee (Little Women) in 2002. Helen, in And a Nightingale Sang, is a front runner, partly because of the chance to revisit a northern England accent. Andy, in Stepping Out, let her finally try tap dancing, assisted by the talented Linda McConchie, who played her dance instructor.