Winter 2000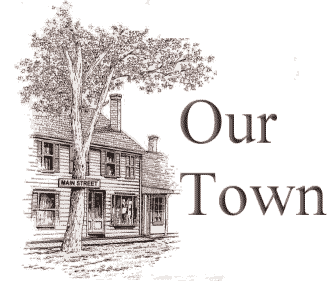 graphic by Steve Moyle
by

OUR TOWN - A Millenium gift for our town
Our Town, winner of the 1938 Pulitzer Prize, is the story of the people of Grovers Corners, New Hampshire, or Concord, Massachusetts, or any town anywhere. It is the story of each of us "in our growing up and in our marrying, and in our living, and in our dying." Because it reaches deep into the heart of twentieth century American life, it continues to stay alive among us. What better way to start the new century than with Wilder's message of the joy of living "every, every moment" and of hope for a more humane future? If you've seen Our Town before, see it again. As New York critic Walter Kerr once said about a 1969 revival, "You'll be surprised how much younger it is than you are."
Performances
February 11, 12, 18, 19, 20 (matinee), 25 and 26
curtain at 8:00 and 2:30 for matinee
Cast
Stage Manager

Dr. Gibbs

Joe Crowell

Howie Newsome

Mrs. Gibbs

Mrs. Webb

George Gibbs

Rebecca Gibbs

Wally Webb

Emily Webb

Prof. Willard

Mr. Webb

Mrs. Forrest

Simon Stimson

Mrs. Soames

Constable Warren

Si Crowell

Baseball Player

Baseball Player

Sam Craig

Joe Stoddard

Farmer McCarthy

Townsperson

Organist

Choir
Thornton Wilder Links

Kids Almanac
Children can learn about this Pulitzer Prize winning author by reading his biography which includes descriptions about his novels and childhood.
Thornton Wilder Society
Dedicated to preserving and expanding the legacy of Thornton Wilder, a three time Pulitzer Prize winner and the only winner for both fiction and drama.


---