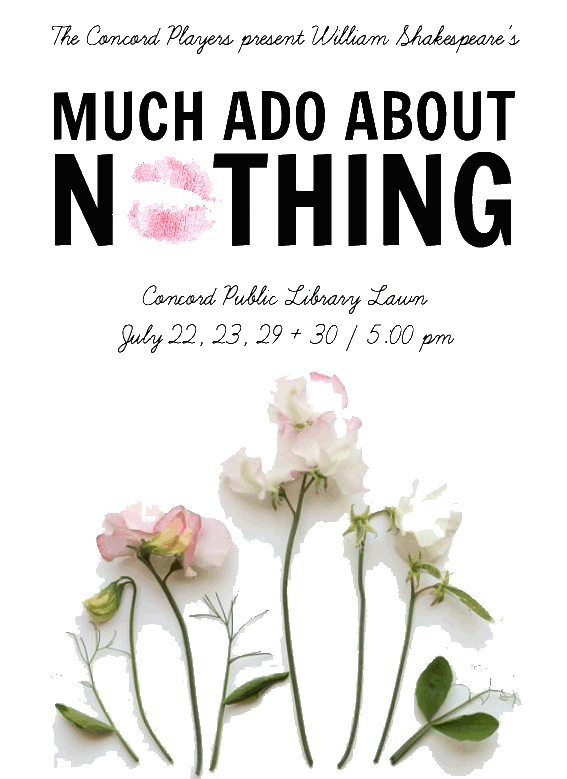 Directed by Nicholas Meunier
Click here for a video of this production!
To be performed on the lawn in front of the Concord MA Main Library
Saturdays and Sundays at 5:00 PM,
July 22-23/29-30, 2017
Free Admission!
A limited number of chairs and rug space will be available, but bring a lawn chair for guaranteed seating and comfort. If you like, bring a snack or beverage.
(alcoholic beverages are not permitted)

(In case of inclement weather, we'll move our show to 51 Walden.)
Click here for a slideshow preview of our production!
This year we present Shakespeare's "modern" comedy, Much Ado About Nothing (abridged). Filled with hilarious deception, cracking word play, and truly dramatic consequences, Much Ado is Shakespeare's brilliant take on what true love really looks like. Follow the arrival of Don Pedro and his followers, Benedick and Claudio, to the home of the noble Leonato for a summer vacation. While Claudio falls instantly in love and wins the hand of Leonato's daughter, Hero, Benedick restarts his ongoing war of words with Beatrice, a woman his equal in every way. Will Don Pedro and friends trick Beatrice and Benedick into falling in love? Will the nefarious Don John ruin the marriage of Claudio and Hero? And what hilarious problems will the bumbling neighborhood watch cause? Come see Much Ado to find out!