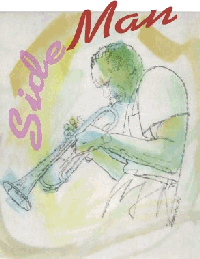 Sketch of Clifford Brown - Artist Dick Freniere
directed by
Michael Jacobs
produced by
Gail Gauthier
non tobacco cigarettes
and mature language
are used in this production.
However, no guns are fired
and you'll see no nudity.
Also you'll hear
some good jazz.
Peter Marks, The New York Times, March 12, 1998
"Side Man is both heartbreaking and touching, a play of true feeling, full of affection for its characters and insight about the events it conjures. The Leight touch, it seems, is a light touch. Free of soggy lyricism that can bog down a play of this nature, Side Man recounts the story of a broken family in plain, wry terms. One of the grandest things about it is that when it's over, you look for heroes and villains, and discover only people."
Clive Barnes, New York Post, March 12, 1998
"...Leight handles the unhappy family scenario (an enabling only child holding together an alcoholic mother and a jazz-obsessed father) with considerable skill, and his insights into the jazz scene - especially the place in history of a certain group of players, from Claude Thornhill onward, right through to legendary bop-trumpeter Clifford Brown and his tragic death - are fascinating."
Robert Daniels, Variety, March 16-22, 1998
"Playwright Warren Leight, whose father was a sideman, incisively captures the pulse and climate of the New York jazz scene, with crisp dialogue and clearly drawn characters. What appears on the surface to be a familiar domestic drama subtly reflects the passing of an era with persuasive insight."