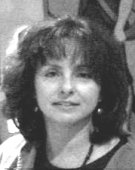 Lida McGirr
Lida (Flora) began her theatrical antics as a 7-year-old singing and dancing leprechaun at Nathan's on Coney Island and is thrilled to be back at STC after last appearing as Edna in "A Delicate Balance." She spent her early twenties as one of three start-up members of the Little Theater on 26th Street before moving back to Boston to take on the role of a lifetime – motherhood.
After a few years hiatus from the stage, she went on to win an EMACT DASH Best Actress Award for her portrayal of Martha in Who's Afraid of Virginia Woolf?, appeared as Dean Kenny in the Elliot Norton Award-winning Spinning Into Butter, as Edith Frank in RCC's production of The Diary of Anne Frank for which she was nominated for an IRNE and as Doris in the award-winning Cemetery Club at Next Door Theater in Winchester where she will be appearing as Shirley Valentine in February 2015.
Aside from acting, she directs and writes. Her short plays have been performed in festivals, retirement centers, a romance novelist convention, a bakery, and board meetings throughout New England.