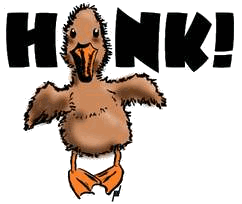 graphic: Peter Davis
A musical Comedy
Music by George Stiles
Lyrics by Anthony Drewe
82nd season
2001-2002
November
9, 10, 11 (mat)
16, 17, 18 (mat)
24

evenings at 8:00

matinee at 2:30
Winner of the prestigious Olivier Award
for Best Musical of 1999!

Winner of the Elliott Norton Award
for Outstanding Musical Production of 2001!
Honk!, the hilarious new musical based on Hans Christian Andersen's "The Ugly Duckling." Honk! contains an exhilarating score that is brimming with wit, melody and unexpected emotion. The British team of George Stiles and Anthony Drewe has turned the inspirational fairy tale into a surprisingly sophisticated comedy that will charm theatergoers of all ages. The London Times called it "delightful," while the Guardian said it "hits all the right notes...(with) an elegance that is rare."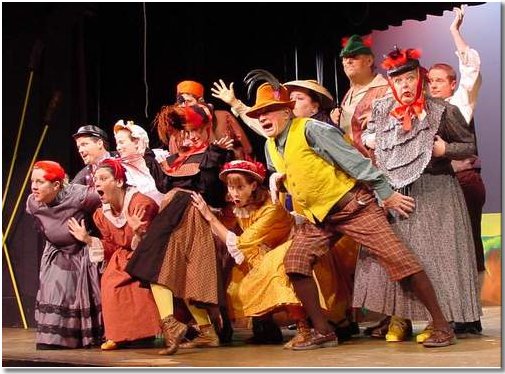 A Poultry Tale
Cast

Ugly

Ida

Drake

Cat

Maureen

Queenie

Lowbutt

Greylag

Dot

Bullfrog

Grace

Turkey

Penny
Duckyard Chorale:

Brian Cutler

Ducklings:
Production Team

Stage Manager
Susan Tucker
Lighting design
D. Schweppe
Set design
Bill Butcher
Set design
Stephen Dirrane
Set construction
Artty Kinsman
Sound design
Mark Elliott
Props
Heddie Kent
Props
Lori Livermore
Costume design
Kathy Booth
Costumes
Dee Graham
Costumes
Carol Antos
Song List:
A Poultry Tale

The Joy of Motherhood

Different

Hold Your Head Up High

Look At Him

You Can Play With Your Food

The Elegy

Every Tear a Mother Cries

The Wild Goose Chase

It Takes All Sorts

Together

The Collage

Now I've SeenYou

Warts and All

The Blizzard

The Transformation