The Concord Players present

November 12, 13, 19, 20, 26, and 27 @ 8:00PM
November 14 & 21 @ 2:00pm

Theatre Mirror review

Talk Back, Nov. 21st. Please stay after the matinee to ask questions of the director and cast.

produced by

Marlene Mandel, Sally Bull, Sheryl Peters, and Susie Baldwin

Winner of the 1985 Pulitzer Prize for Drama, Stephen Sondheim's Sunday in the Park with George is about the "art of making art" and age-old conflicts between creation and commitment, love and life, art and commerce. It is a fanciful protrait of the 19th century pointillist painter Georges Seurat, his struggle to get his vision onto canvas, and his longing for a love that lasts.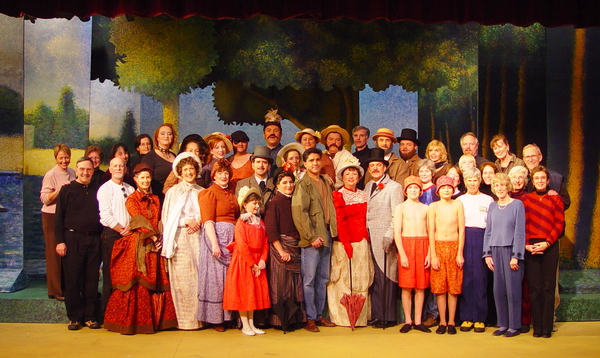 cast and crew
Current rehearsal calendar
Word doc (updated Oct 15)
Cast

Dot

Jules

Celeste #1

Celeste #2

Soldier

Little Girl

Boy 1

Boy 2

Louis/
Man with bicycle

Louis
Production team

Director

Music
Director

Stage
manager

Assistant
stage manager

Set Designer

Head Set
Builder

Lighting
designer

Darren
Evans

Ass't Lighting
design

Sound
designer


Costumes
designer


Props and
set dressing


Slides

Makeup
& hair

Publicity